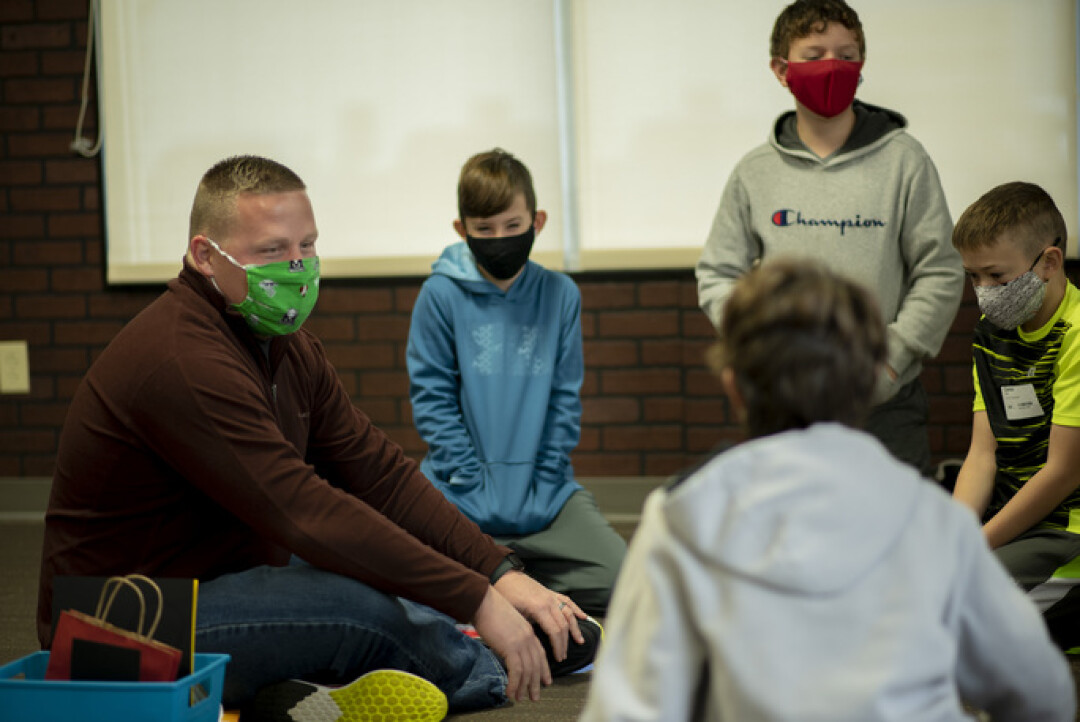 Since reopening kids' ministry in September, there are plenty of mornings when we question, is it worth it? Our attendance for elementary has ranged from 20%-30% of our pre-Covid numbers. Preschool and nursery attendance is even smaller. While this has made keeping our groups small fairly easy, at times it can certainly feel disheartening. We have actually had to turn volunteers away almost every Sunday. Some rooms are completely empty—no kids to teach. As staff, we worry that our volunteers will feel discouraged, unneeded and give up.
At the same time, every interaction we have with volunteers, parents and kids feels like a gift. We took for granted the freedom of Sunday morning church attendance before Covid. Now it feels like a privilege to serve, to lead, and just to be present in our church building.
One of our RidgeKids leaders, Chris, recently shared about a serving experience with his group of 4th and 5th grade boys that brought encouragement to him. He took the time to share his journey serving in kids' ministry as well as a recent example of one simple conversation that reminded him of the value of his role.
"My wife, Jenn, and I began attending River Ridge in 2006, after looking for a church for several months. We briefly started at the Charleston Campus and quickly joined the Teays Valley Campus during its initial move to the valley. We were a part of the launch team that started the campus that consisted of 60 folks, so we committed to serve where needed. We served in several capacities over the years as needs were identified."
Chris went on to describe how he served in several areas, but found his niche when our kids ministry created a specific program for 4th and 5th graders called RidgeKids 45.
"When the 45 ministry was formed, I decided to join the new format for 4th-5th grade students. It was easy, because my oldest son was entering the 4th grade, so it provided me the opportunity to invest in his growth as a young believer. He then moved up to Wired (middle school ministry) and I remained to invest in my second son's spiritual growth."
Chris served in several roles through the church from helping count offering, nursery work and other areas of RidgeKids. It may take a few tries to find the role that really fits your gifts and personal experiences, but once you find it, it can be a source of great growth. Take it from Chris:
"Recently, we worked through the story of how David showed kindness. The guys talked about the challenges they encountered, especially with their siblings, in sharing kindness. They talked about how they struggle to set themselves apart from the world's view of kindness and how revenge can be more appealing in certain cases. These moments cause me to pause and realize how powerful God really is and how receptive these guys are to God's teaching."
Serving in kids ministry looks a lot different right now. Volunteers and kids wear masks, use hand sanitizer and meet in groups with 5 kids or less. These programming changes can feel burdensome, but Chris isn't allowing the obstacles of 2020, to keep him from leading kids to Christ. These simple conversations between Chris and the boys he leads, are helping them make connections from the Bible, to their lives. Chris left that Sunday encouraged because the kids in his group were able to take their real-life challenges and apply God's word to their situations.
"At times, serving felt laborious and expected, but when I found my niche in leading the guys in 45, I have grown personally. I'm utilizing my gifts and investing in others to sharpen my faith and theirs."

Serving is a choice. It can feel laborious and expected just as Chris described, but when we choose to put another person's faith and spiritual growth above our own desires, we will experience blessing over the long haul. These simple conversations with kids are what keep volunteers going. These little moments when kids apply God's word to their lives are the encouragement we need when we question the value of our role.
Serving at church in the middle of a pandemic is no easy decision. As a church, we've put health and safety protocols in place that allow us to meet and continue ministry. We are so thankful that our volunteer teams and families in attendance are willing to follow protocols that keep our gatherings safe. That being said, we also understand that some families and volunteers aren't comfortable returning, and that's ok.
So whether you are attending and serving in the local church, viewing church online from home, or have grown disconnected from church during 2020, let Chris' story be an encouragement to you. Consider your own contribution to the church and to serving others. If your normal role is not an option right now, what other ways can you invest in ministry? Contact your local church to find out.
"I believe you need to try something even if it feels uncomfortable. Serving is messy and so are our lives. We don't have to be buttoned up rather just available and willing to serve. God will use us in any task of service to glorify His kingdom. Some of the best growth I've had in my life came in some of the instances where I was willing to serve."